MEASUREMENT OF ETHANOL IN A
FORENSIC WHOLE BLOOD SAMPLE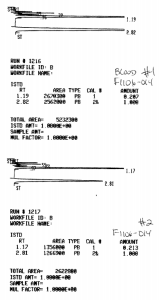 $8.50 (US)


(12 Pages of Text + Exhibits)


Measurement of Ethanol by gas chromatography in a forensic whole blood sample obtained from DUI suspects has long been the gold standard. Unlike breath analysis for alcohol, whole blood alcohol analysis by gas chromatography is performed using an internal standard method. Use of an internal standard obviates the need to measure injected volume precisely since the important factor is the ratio of alcohol to internal standard.

This Report illustrates the routine quantitative analysis for blood alcohol by gas chromatography.



$8.50 (US)